Mid Field Imager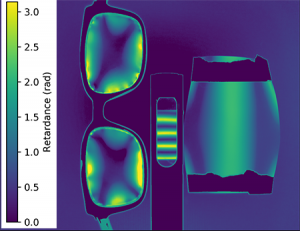 The newest system to the Hinds Instruments Birefringence Measurement catalog, the Mid Field Imager is designed for high speed retardance measurement of a variety of samples. Where Exicor systems have been limited to planar samples only, the Mid Field Imager offers strain imaging of any free form optic, glass, plastic or biological sample, as well as standard planar samples up to 148mm x 130mm. Along with the new ability to measure free form samples, the Mid Field Imager is also the first wireless system from Hinds Instruments.
Useful for academics, research and development, and quality assurance, the Mid Field Imager provides users with quantitative stress measurement of samples within seconds. The Mid Field Imager's polarization imaging will give the same ease and feel of using cross polarizer analysis, while also producing quantitative data with its easy to use software.
Features:
• Measures retardation and intensity
• Images retardation and intensity
• Wireless Communication
• Visual color maps for optimal display of data
• Pixel by pixel data and hover tool
• Export of data in .csv format
• Export images in jpeg format

SPECIFICATIONS
Retardation Repeatability
2 nm
Light Source Wavelengths
Blue (475 nm)

Green (530 nm)

Red (630 nm)

Retardation Measurement Range
5 nm - λ / 2
Data Collection Speed
6 sec
Data Processing Speed
10 sec
Field of View
148mm x 130mm
Spatial Resolution
50 µm / pixel
Interfaces
Wireless, Ethernet
Camera Resolution
8 Megapixel
Dimensions Footprint
38cm x 33cm
Height
86 cm
Contact us
for more information about the Mid-Field Imager.