Optical Chopping (Intensity Modulation)
USING THE PEM'S 2F REFERENCE
The PEM modulates light polarization. When a PEM is used between two crossed polarizers, the set-up can modulate the intensity of a light beam (chopping). This intensity modulation is at a fixed frequency between 40 and 200 kHz.
Setup


Chopping frequency: PEM's 2nd harmonic (2f)
Obtained Waveforms

USING THE PEM'S 1F REFERENCE
When the PEM is set up between a circular polarizer and a linear polarizer the following "on and off" chopped waveform is obtained. Note the obtained waveform approximates a 50/50 duty cycle. The extinction ratio is set by the extinction ratio of the polarizers used in the optical path.
Setup

Chopping frequency: PEM's first harmonic (1f)
Obtained Waveforms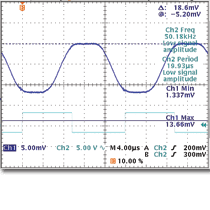 APPLICATIONS
"Chopping" at tens of kHz without moving mechanical parts, vacuum UV to mid-IR
TYPICAL PEMs
AVAILABLE INSTRUMENTATION
High Speed Optical Chopper
FURTHER READING
T. C. Oakberg and B. Wang, Application note - Light Intensity Modulation Using A PEM, Hinds Instruments, Inc. (1995).
Contact us for more information on PEMs and Optical Chopping (Intensity Modulation).