Hinds Instruments announces the shipment and installation of the first Exicor® DomainTM Hysteresis Loop Tracer
September 25th, 2012
Hinds engineers install the first Exicor® system based on the magneto optic Kerr effect (MOKE) at NISER (National Institute of Science, Education and Research) in Bhubaneswar, India.
Hillsboro, Oregon, September 25, 2012 - Hinds Instruments, a leading global supplier of polarization measurement technology, announced the installation of the first Exicor® DomainTM Hysteresis Loop Tracer for the characterization of magnetic thin films.  The newly developed system was installed in Bhubaneswar, India at the National Institute of Science, Education and Research (NISER).
Developed in conjunction with leading researchers in magnetic materials on three continents, Hinds Instruments' new Exicor® Hysteresis Loop Tracer has application in the rapid generation of hysteresis loops for the characterization of magnetic thin film materials.  The instrument design incorporates a photoelastic modulator (PEM), the heart of Hinds polarization measurement technology.  The optical system uses the magneto optic Kerr effect (MOKE) to track alignment changes in a thin film sample under the influence of a cycling magnetic field.  The turn key system traces loops based on both the Kerr rotation and Kerr ellipticity data simultaneously.
The design of the system with Hinds PEM technology assures leading edge sensitivity and repeatability in the system.  In addition, the user interface is designed for simple, straightforward operation.
The Exicor® Hysteresis Loop Tracer system is designed in the longitudinal configuration, but conveniently allows the user to turn the magnet 90° and convert to the transverse configuration.  The system is also available in a polar configuration. In addition to the Hinds PEMs, the system components include other Hinds proprietary components: two Hinds SignalocTM Lock-in amplifiers and a DET-200 detector.  Together, they combine to provide world leading performance.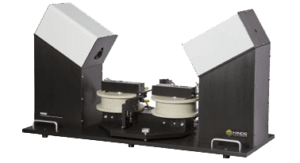 Hinds Instruments, Inc. is a world leader in developing and supplying polarization measurement technology for a broad range of applications.  With 40+ years of polarization measurement experience, Hinds Instruments PEM-based solutions are proven tools for both laboratory and advanced fabrication applications.  Hinds' family of products includes modulators, lock-in amplifiers, Stokes polarimeters, Mueller matrix polarimeters, Exicor® DomainTM MOKE measurement systems and Exicor® birefringence measurement systems.  For more information, please contact Hinds Instruments.