120 AT Birefringence Measurement System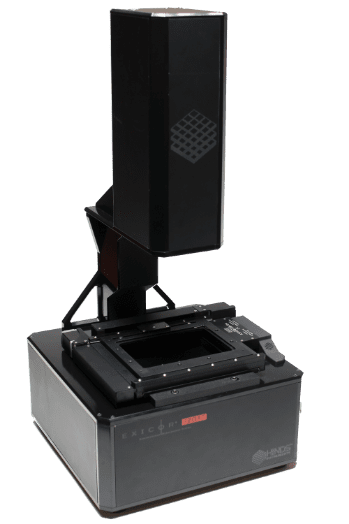 The new Exicor® 120AT is versatile enough to excel in both production floor and R&D lab environments. The bench top design and intuitive automated scanning software make this product ideal for day-in-day-out evaluation of small parts (up to 120 mm x 100 mm).
The standard high speed scanning package, Scan in Motion™ or SIM, makes high spatial resolution scans (<1 mm grid spacing) practical.
Applications:
Stress Retardation Measurements:
Plastic films
Lens blanks
Laser crystals
Cell phone display windows
Features:
Automated XY stage
2D and 3D graphical representation of birefringence parameters
Bench top design
Advanced data analysis features included standard in user interface
 SPECIFICATIONS
Retardation Range:
0.005 to 300+ nm
Retardation Resolution /
Repeatability1, 2:
0.001 nm / ± 0.02 nm
Angular Resolution /
Repeatability3:
0.01º / ± 0.07°
Measurement Rate / Time4:
15 samples/sec (at 1nm spacing)
System Dimensions:
715 mm (H) x 350 mm (W) x 360 mm (D)
Light Source Wavelength5:
Various (633 nm standard)
Measurement Spot Diameter6:
Between 1 mm and 3 mm
Measurement Units:
nm (retardation), ° (angle)
1 Typical performance at 5 nm retardation
2 Up to 2 nm, 1% thereafter
3 Typical performance at 10 nm retardation
4 Maximum data collection speed. Sample XY scan time dependent on stage movement parameters.
5 Custom wavelengths available
6 Spot sizes of less that 1 mm native require optional high resolution detector module
FURTHER READING:
Birefringence and piezo-Raman analysis of single crystal CVD diamond and effects on Raman laser performance, Hadiya Jasbeer, Robert J. Williams, Ondrej Kitzler, Aaron McKay, Soumya Sarang, Jipeng Lin, and Richard P. Mildren, OSA Publishing, JOSA B, Vol. 33, Issue 3, Page B56 (2016)
Birefringence characterization of injection molded microplates, Achyut Adhikari, Anand Asundi, Proceedings Volume 9302, International Conference on Experimental Mechanics 2014; 93022Q (2015)
Birefringent properties of cyclic block copolymers and low-retardation-film development, Weijun Zhou, Charles Diehl, Dan Murray, Kurt A. Koppi, Stephen Hahn, Shin-Tson Wu, Journal of the SID, 18/1, 2010
Contact us
for more information about the Exicor 120AT and to see how Hinds Instruments works with our customers to provide unsurpassed birefringence measurement metrology.