Exicor AT Series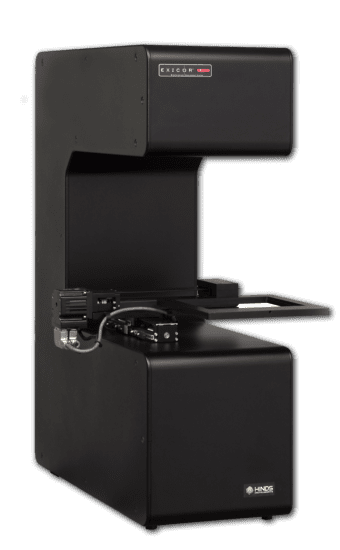 SPECIFICATIONS
| | |
| --- | --- |
| Retardation Range: | 0.005 to 300+ nm |
| Retardation Resolution / Repeatability1, 2: | 0.001 nm / ± 0.015 nm |
| Angular Resolution / Repeatability1: | 0.01º / ± 0.07º |
| Measurement Rate / Time3: | up to 100 pps / sample size dependent |
| System Dimensions | |
| 500AT | |
| System Size (mm): | 1500 (H) x 1500 (W) x 1500 (D) |
| Max. Sample Size (mm): | 500 (W) x 500 (D) x 500 (H) |
| 300AT | |
| System Size (mm): | 1752 (H) x 1270 (W) x 1193 (D) |
| Max. Sample Size (mm): | 300 (W) x 300 (D) x 150 (H) |
| 250AT | |
| System Size (mm): | 413 (W) x 693 (D) x 909 (H) |
| Max. Sample Size (mm): | 250 (W) x 250 (D) x 150 (H) |
| 150AT | |
| System Size (mm): | 413 (W) x 693 (D) x 909 (H) |
| Max. Sample Size (mm): | 150 (W) x 150 (D) x 150 (H) |
| Light Source Wavelength4: | Various (632.8 nm standard) |
| Measurement Spot Diameter5: | Between 1mm & 3mm native (can be as low as <50 µm) |
| Modulation Technique: | PEMLabsTM Photoelastic Modulator |
| Measurement Units: | nm (retardation),° (angle) |
1 Typical performance at 5nm retardation
2 Up to 1.5 nm, 1% thereafter
3 Maximum data collection speed. Sample XY scan time dependent on stage movement parameters.
4 Custom wavelengths available
5 Measurement spot sizes of less than 1mm (native) require optional high resolution detector module
Contact us
for more information and to see how Hinds Instruments works with our customers to provide unsurpassed birefringence measurement metrology.