Exicor® HD Series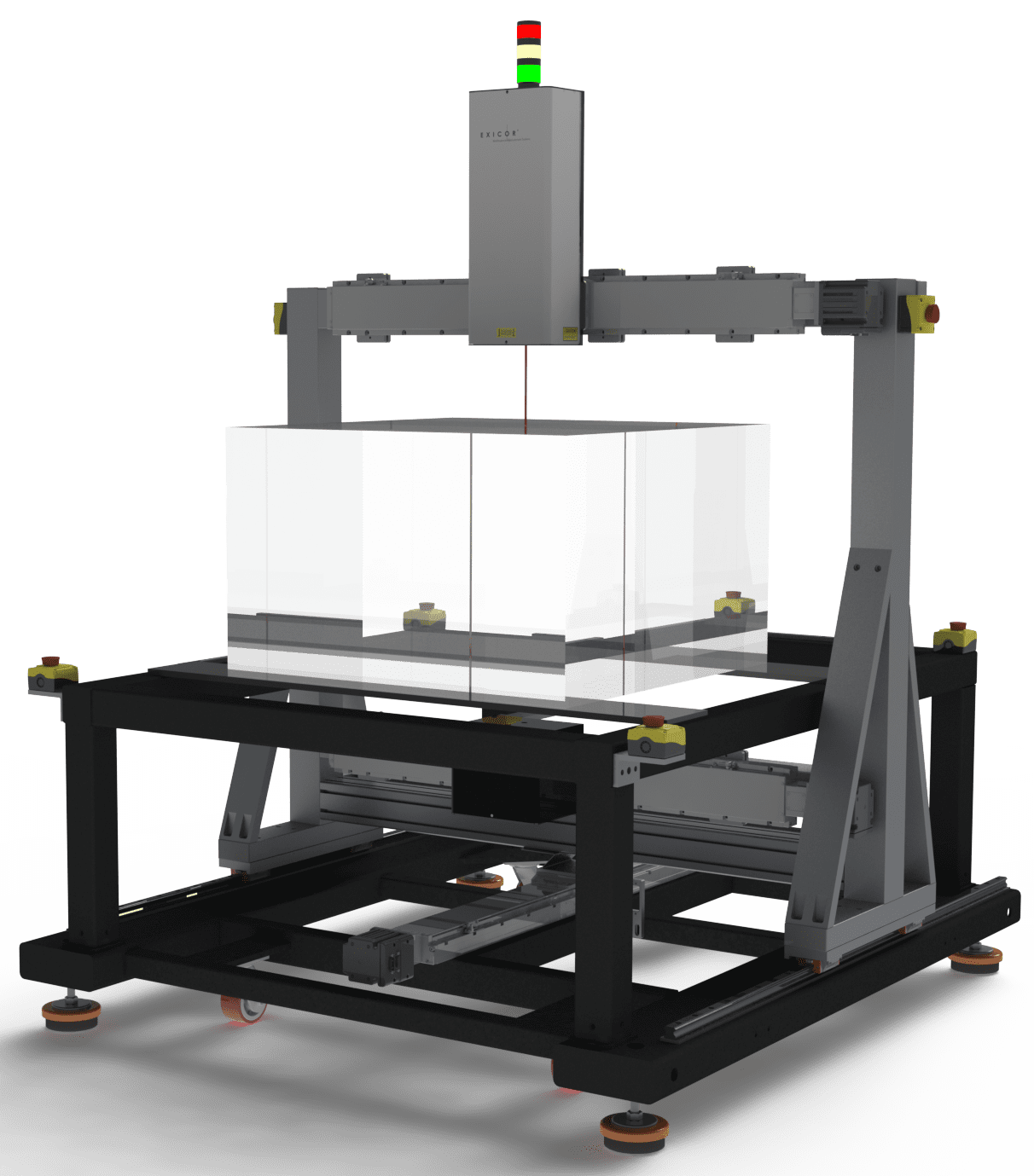 Above: Exicor® HD prototype

The Exicor
®
HD system is a newly designed heavy-duty sample measurement system based on Exicor's core low-level birefringence measurement technology and precision automated motion control elements. The Exicor HD is designed with an all steel base to support heavier samples. This brings the Exicor birefringence measurement system family to a new level of efficiency and improved robustness to accommodate even larger, heavier, and more numerous samples. The HD's sample dimensions will start with the 400HD at 400mm x 400mm x 400mm(x,y,z) with a max sample weight of 250lbs/113kg and will end with the 2000HD at 2m x 2m x 500mm(x,y,z) with a max weight of 2,200lbs/1000kg. This new line of products makes the family of birefringence measurement systems more versatile than ever before.
The HD systems are also customizable to meet your every need. If your sample requires a vat for index matching fluid, we can customize it to accommodate for your vat. We can do custom wavelengths (VIS, NIR), as well as custom sample holders, and even provide custom software (UI or DLL).
Exicor Platform
Motion
Model
Sample Dimensions
Nomenclature
X/Y
Z
Max. Weight
HD
Sample
400HD
400 x 400
400mm
250lbs / 113kg
HD
Sample
600HD
600 x 600
600mm
500lbs / 225kg
HD
Gantry
800HD
800 x 800
500mm
750lbs / 340kg
HD
Gantry
1000HD
1m x 1m
 500mm
1100lbs / 500kg
HD
Gantry
1500HD
1.5m x 1.5m
 500mm
1650lbs / 750kg
HD
Gantry
2000HD
2m x 2m
500mm
2200lbs / 1000kg
SPECIFICATIONS
| | |
| --- | --- |
| Retardation Range: | 0.005 to 300+ nm |
| Retardation Resolution / Repeatability1, 2: | 0.001 nm / ± 0.015 nm |
| Angular Resolution / Repeatability1: | 0.01º / ± 0.07º |
| Measurement Rate / Time3: | up to 100 pps / sample size dependent |
| Light Source Wavelength4: | Various (632.8 nm standard) |
| Measurement Spot Diameter5: | Between 1mm & 3mm native (can be as low as <50 µm) |
| Modulation Technique: | PEMLabsTM Photoelastic Modulator |
| Measurement Units: | nm (retardation),º (angle) |
1 Typical performance at 5 nm retardation
2 Up to 1.5 nm, 1% thereafter.
3 Maximum data collection speed.  Sample XY scan time dependent on stage movement parameters.
4 Custom wavelengths available
5 Measurement spot sizes of less than 1mm (native) require optional high resolution detector module
Contact us
for more information about the Exicor HD to see how Hinds Instruments works with our customers to solve complex metrology problems.