PEMCSC Optical Head Specifications1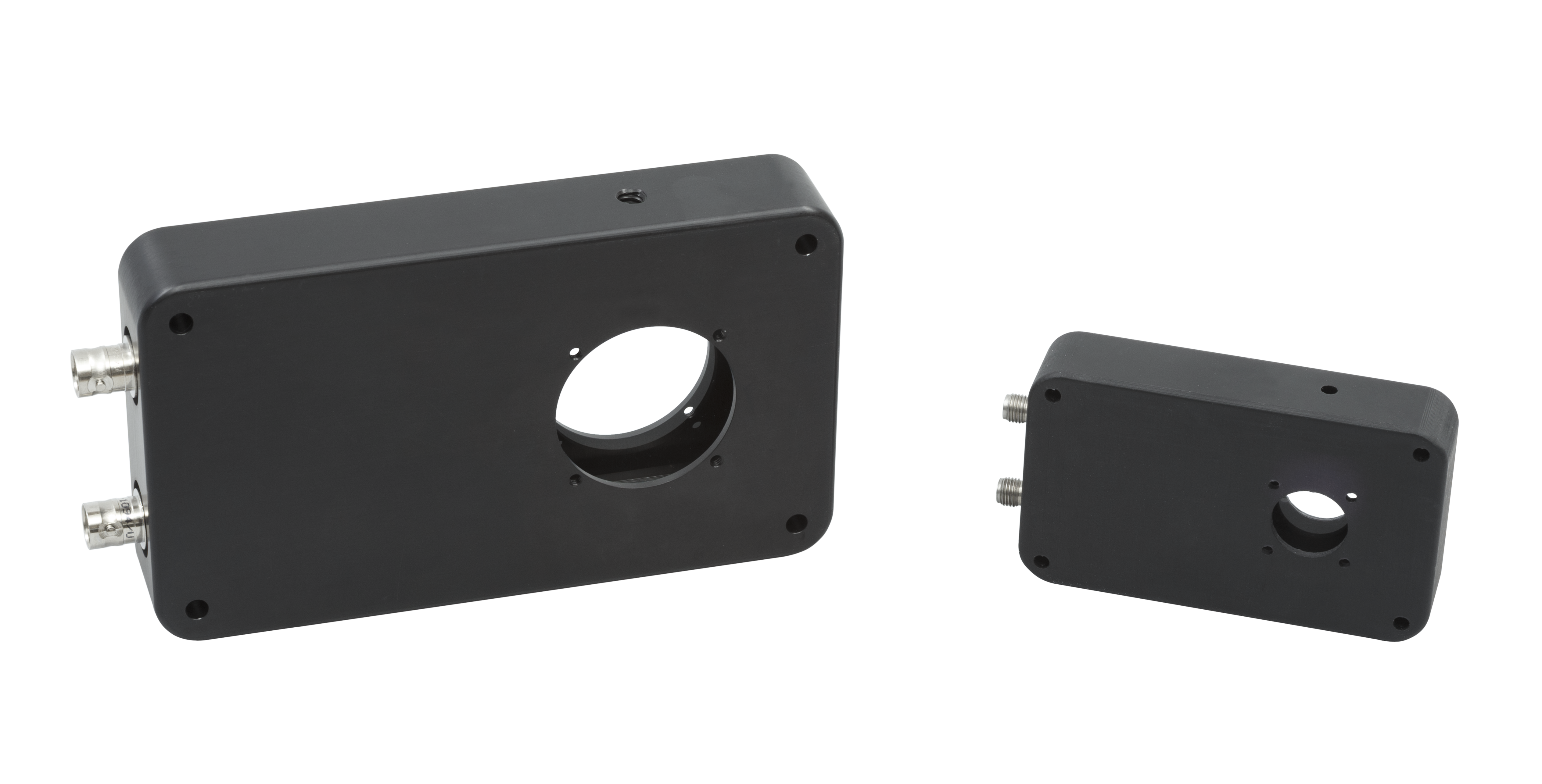 Model
Optical
Material
Nominal
Frequency
Transmission
Range
Retardation Range
Useful
Aperture2
Quarter
Wave
Half
Wave
I/FS40
Fused
Silica
40 kHz
170nm-2.6µm
170nm-
2µm
170nm-
1µm
17 mm
I/FS50
Fused
Silica
50 kHz
170nm-2.6µm
170nm-
2µm
170nm-
1µm
16 mm
I/FS60
Fused
Silica
60 kHz
170nm-2.6µm
170nm-
2µm
170nm-
1µm
15 mm
II/FS423
Fused
Silica
42 kHz
170nm-2.6µm
170nm-
2.6µm
170nm-
2.5µm
27 mm
II/FS473
Fused
Silica
47 kHz
170nm-2.6µm
170nm-
2.6µm
170nm-
2.5µm
24 mm
II/FS503
Fused
Silica
50 kHz
170nm-2.6µm
170nm-
2.6µm
170nm-
2.5µm
22 mm
II/FS843
Fused
Silica
84 kHz
170nm-2.6µm
400nm-
1µm
400nm-
1µm
13 mm
II/IS423
Infrasil
42 kHz
 210nm-3.5µm
300nm-
3.5µm
300nm-
3µm
27 mm
II/IS843
Infrasil
84 kHz
 210nm-3.5µm
400nm-
1µm
400nm-
1µm
13 mm
II/ZS37
Zinc
Selenide
37 kHz
550nm-18µm
2µm-
18µm
1µm-
9µm
19 mm
II/ZS42
Zinc
Selenide
42 kHz
550nm-18µm
2µm-
18µm
1µm-
10µm
17 mm
II/ZS50
Zinc
Selenide
50 kHz
550nm-18µm
2µm-
18µm
1µm-
10µm
14 mm
1 Specifications for models in the PEMCSC category.
2 For a full discussion, consult the Useful Aperture Technical Note.
3 Please contact Hinds Instruments with your wavelength range for optical calibration. II/FSXX PEMs may experience an loss of wavelength resolution if not calibrated for the user's expected wavelength range.

Options
Antireflective Coatings (ARC)
Magnetic Field Compatible (MFC)
Special Frequency Option (SFO)
Non-Interference Option (NIO)
-NIO-1, standard on I/FS50
-NIO-2, custom on Series I optics
Vacuum Compatible Head Customization

To learn more about the PEM, please visit PEMCSC.